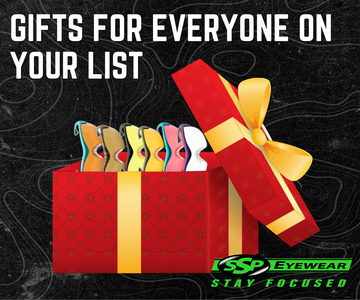 By Molly Kwakenat
The holiday season is in full swing and what better way to tell someone in your life that you love them than with a gift from SSP. If you're looking for that last minute gift, SSP has different products that will suit the needs of everyone on your list.
For Mom or Grandma:
As the weather begins to cool, the holiday season is full of cooking both sweet treats and hearty meals. What could be better than a pair of glasses that provide protection while cooking? For your mom who loves to try new recipes in the kitchen and cook for her family, but tears up at the chop of an onion, the Pasilla Chef Shades help keep irritants out. From a smokey grill, all the way to onion vapors, these are sure to keep her eyes on the prize (and away from any sharp knives). 
For the trapshooter or hunter in the fam:
As the popularity of trapshooting teams continues to rise across the nation, the perfect gift for your child who just joined the local trap shooting team is the Methow kit. A glasses set that's sure to get them through all of their school aged years and beyond. With various colored lenses that are interchangeable, there's a color for every condition. Meaning they won't have to worry about missing the target, and become a champion trap shooter in no time.
For your Dad:
 For your dad who will be thinking of warmer summer days spent out on the boat angling for his personal best largemouth bass, the polarized effect of the Mazama Sea Readers will ensure he won't miss a single bite. While regular sunglasses only block some of the light from the sun, these glasses are designed to absorb the rays, meaning that glare is virtually eliminated. Plus, the built-in bottom bifocal makes tying hooks much easier; he'll actually be able to see what he's doing! Anyone who loves to spend their time out on the lake catching fish will surely be excited to open these on Christmas morning.
For your uncle:
We all have that one uncle who swears that he used to be a better shot, but can't quite do it. Well, perhaps he needs a little help seeing his front sight? What better way to bring him joy this holiday season than with the Top Focal Ultra Kit! For anyone who struggles to see their front sight, these glasses not only provide ANSI Z87.1, but enable you to shoot like you're back in your prime.
For your aunt:
 For your aunt who just got her permit to carry on and is excited to get some practice in down at the local gun range, there's nothing better than getting her a pair of Entiat Bifocal Safety Glasses so she can be protected in style. OSHA is approved and comes in four different color options: black, red, pink, and duo-tone. Any lady in your life will be sure to love wearing these while getting her range time in.
For your brother:
 Your brother just started a new construction job, and you couldn't be more proud. Knowing how dirty job sites can be, there is one product that stands above the rest, the Yakima. They are recommended for dusty, dirty, and windy environments or anywhere eye protection is required. From construction to landscaping, these glasses will be essential to any work site and your brother will be thanking you in the long run. Plus, they'll fit his round head :)