News & Testimonials
The Perfect Gift Guide For Dad this Father's Day
by Ali Juten on Jun 05, 2019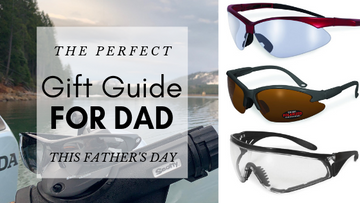 By Molly Kwakenat
Whether you call him dad, pops, or daddio, Father's day is quickly approaching and the hunt is on to find the perfect gift for the important figure in your life. If you choose to stay in to celebrate your dad, or go out for a day of fun, there is no better gift to give than a day that is full of adventure. Here are a couple different ideas that will ensure endless memories and give your pops a smile to remember for years to come.
A day spent out on the shooting range
For the dads who love to shoot and get their practice in, what better way to celebrate a day all about him than out at the range. Indoor or outdoor, getting out to the range and having a little target practice to improve aim is only a miniscule part of the fun that will be had between you and your dad. 
To ensure safety and style while at the range, include the Chelan AST Kit along with his range day. This will give him the maximum protection that he needs to have a worry-free day of shooting, and hanging out with his favorite kiddos. This kit has 3 interchangeable lenses for any light condition; inside or outside, dad will be sure to love these specs.
Not sure if there is a range near you? Click here to find the range closest to you!
A day at home, helping dad cook up dinner
Not in the mood to go out for your day spent with dad? If your dad loves to cook, what better what to spend time with him than staying in and whipping up a great meal together. Trying out new recipes and cooking up food to enjoy is the best way to bond, whether you're out grilling on the porch or inside baking up cookies for dessert. Finding the best eats will make both your dad and his stomach happy.
Dad big into chopping onions or using his smoker? Help him avoid the tears and grab him a pair of Poblano glasses to protect his eyes when he's making your favorite dish. The full coverage of the glasses will ensure that no vapors get in his eyes and keep him from tearing up.
A day spent out soaking up the sun on the lake fishing
Not been able to get out on the lake as much as you'd like this summer? Use Father's Day as a way to spend that much needed time on the water fishing with dad! There is no better way to spend time with the ones you love than out on the lake, sharing stories and hoping to pull in some big fish.
In case the sun is shining bright, pair your day of fishing with the Cowlitz Polarized Sunglasses. This will help reduce the glare from the water, and make sure your dad can successfully net that hog you'll be reeling in.
Spending a day building and working together
Is your dad a handyman who likes to get down and dirty and work with his hands? Offer to spend your day with him helping him build something new or fix up an old project that needs some work. Being able to show interest in his favorite things is something that is worth much more than a flashy gift. Plus, he will get an extra set of hands that he needs to finish something that he's been putting off.
If it comes down to building a new birdhouse or fixing up the old lawnmower, safety is number one. The Snoqualmie safety glasses will ensure that dads eyes stay safe, and that time spent together is maximized and fully enjoyed.
Do you have any fun ideas of how you plan on spending your day with your favorite guy in your life? Let us know what you'll be doing to celebrate your dad!
1 comment