News & Testimonials
Shooting Glasses Approved by an All-Women Chapter of Pheasant's Forever
by Ali Juten on Aug 20, 2019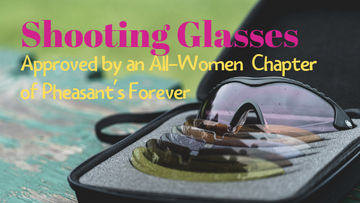 By Molly Kwakenat
Photos by Dustin Samplawski
On a rainy Sunday in June, a group of 31 women made their way to a local sporting clays course, ready to blast some birds. Minnesota's only All-Women Chapter of Pheasants Forever, Legendary Longtails, was hosting their first ever all-women shoot. 
Legendary Longtails has been an established chapter of Pheasants Forever for a little over a year, and currently has over 100 members. As a group of strong, passionate, like minded women, getting outside and taking advantage of all it has to offer is a passion for the chapter as a whole. From group hunts, fishing trips, training classes, and more, they have made strides toward opening a whole new world to ladies who haven't been exposed to all the great outdoors has to offer. Their main goal, besides the goal of conservation (which embodies the PF goal), is to get more women involved in outdoor sports. In preparation for the All-Women Pheasant Hunt they will be hosting come September, being able to shoot successfully was one of the many steps. 
"Lots of women came out [to the clay shoot] despite the rain to shoot and enjoy the day with friends," said Kristine Ostertag, the group's Treasurer "Some women were just learning and some were experienced shooters. It was great to see so many women all enjoying their passion for the outdoors and helping each other learn and grow."
Bringing the most experienced women together with those who had yet to touch a firearm, safety was a crucial aspect of this day. We sent Legendary Longtails our Methow Kit to test for the event, allowing women of all shooting abilities to preview their sleek, versatile design. With clouds filling the sky  and rain drizzling down, the ladies tested out the Orange-Anti Fog lenses for maximum visibility of the orange clays.
"After wearing a basic pair of clear safety glasses and then testing out the SSP Methow Kit, I didn't want to switch back to my regular safety glasses," said LL member Nicole Elfmann. "The picture was clear and the fit was great! With the rain and humidity, glasses fogging up seems to be the biggest problem. I did not have that issue with the SSP eyewear."
After a few stations with the Orange lenses and the rain starting to part, the ladies decided to make a simple switch to the Purple Anti-Fog lenses to test their increased visibility in lighter environments.
"With other eye protection you are stuck with what you have, it's one lens and that's it. With SSP you have one frame and endless possibilities," said MacKenzie Kroll, the chapter's Marketing and Event Chair. "You are able to look at your environment and pick the perfect colored lens from the carrying case (it literally took me 2 seconds to snap out of orange and into purple). I definitely understand why people want the colored lens options when it comes to mother nature's every changing light and this kit includes everything you could need."
Overall, the positivity that day was high. Women were accomplishing their shooting goals throughout the course, and we can bet that the Methow Kit is to thank for that. Despite the rain, the ladies were still able to share their passion, have a good time, and have un-compromised eye protection in the process.
"Whether shooting sporting clays, skeet or just target practice, I would recommend these glasses for any shooter out there," said Ostertag.
4 comments