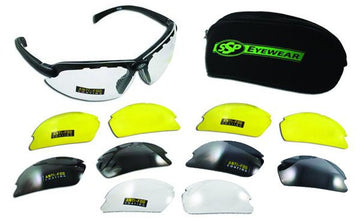 SSP EYEWEAR – STAY FOCUSED AND IMPROVE YOUR SHOOTING
SSP Eyewear
is passionate about protecting your eyes because you use them every day. With the introduction of
Lasik Surgery
, correcting nearsightedness (unable to see far away) has become very popular. The downfall is that you tend to lose your ability to see up close while reading. Also, your left and right eyes can deteriorate at different rates. This result is your 
eye changing, and you lose the ability to see up close with your dominant eye. With the use of the Top Focal® glasses, you will be able to improve the sight of your dominant eye.
You can also set up both the Top Focal® and the Denial (bottom bifocal) glasses with different powers for each eye. Additional lenses are available.
https://sspeyewear.com/collections/eyewear-accessories/products/replacement-lenses
Long Gun Use
The Top Focal® shooting glasses are commonly used in conjunction with an AR since the sights are the same distance from the eyes as a handgun.
For scope use, adjust the reticle eyepiece to view the crosshairs clearly either through the Top Focal® or through the bottom of the lens, whichever is your preference. Look through the Top Focal® to adjust the turrets on the scope.
Iron sights can be tricky since the distance is longer between sights. There is not a lot of information on this, but generally the rear sights are difficult to see since they are so close. If you have any information on this, feel free to share with us.
Red Dot uses the same Top Focal® power as you would for pistol shooting.
Misinformation
Using a low power magnification, for example, +0.5-0.75, will allow you to view your target better.
Using too low a magnification will provide a slightly better sight view but slightly worse target view, thus a compromise.
Don't compromise, use the correct Top Focal® glasses to see your sights crystal clear and use an SSP Eyewear Plano lens (Chelan Lens) in your non-dominant eye to see your target just as clear.
Common Questions
SSP Eyewear has done everything possible to find a frame style that accommodates face shape. In the future, we will introduce new styles to fit XL, and XS faces as well as large and petite nose bridges.
Can you make the Top Focal® Magnifier larger?
At this time, it is as large as ANSI (American National Standards Institute) will allow for two reasons:
It should not obstruct your distance view (height)
The curvature of the lens would distort the magnifier (width)
The Magnifier sits too low on my face, the line is in my view.
A1. Make sure the Top Focal® glasses are fully seated against your face, and the lenses are cupped, so they are not touching your eyelashes. DO NOT WEAR LIKE READING GLASSES ON THE END OF YOUR NOSE.
A2. If you have a small nose bridge, you may purchase stick-on felt or silicone nose pads from a drug store and apply to the stock nose pads to let the glasses ride higher on the nose bridge.
The magnifier sits too high on my nose, and I cannot lower my head enough to see through the magnifier.
A1. You will need to tilt your head down with your weight forward to see through the magnifiers.
A2. Unfortunately, the glasses will not fit very large nose bridges, causing the glasses to ride high. Call our office to make arrangements to return for a full refund. SSP is working on a solution.
Specifications
NTOA (National Tactical Officers Association) approved & recommended
Exceeds ANSI Z87.1+2015 specifications for high impact protection
Other users include mechanics, electricians and anyone doing overhead work
Anti-fog coating, double sided & permanently bonded to the lens, lasting 65% longer
Feature optically correct, decentered, shatterproof, polycarbonate lenses to virtually eliminate distortion
Offer sharp peripheral vision without any blind spots
Permanent, durable anti-scratch hard coating
Provide 100% protection from harmful UVA/UVB rays
Tough nylon matte black frame
Anti-Fog venting between the frame and lens
Rubber nose and ear pads
Fits narrow, round, and up to XL faces
Magnifier at the top of the lens is 3/8 inch from the top of the frame down by 1-1/4 inch wide
Frames are 1-3/4" tall and 5-3/4" wide at the front
Weight is 1 oz  
Do you have Questions or Comments we would like to hear from you?
(Complete the form below)
15 comments