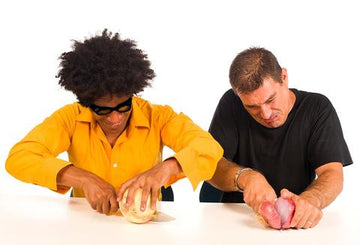 Is peeling onions always a struggle? Shouldn't you consider protecting your eyes while cooking - at home, working in a restaurant or industrial cooking and preparation area? Then SSP Eyewear has got you covered! The innovative protection eyewear producer has developed a whole new product to suit your needs - namely, their #1 selling Chef Shades. This eyewear will put an end to your putting up with the steam coming from boiling water or heated oil, objects flying in the air while you are chopping or cutting food. At home or on the job from the simple like preparing French Fries or while you are outside grilling on the Barbeque! Still, what is so special about this new line of SSP Eyewear protection glasses?
The Chef Shades were developed with the simple idea of providing you with high-quality protection for your eyes which is both innovatively designed and suitable for your everyday life. Indeed, many people need protection eyewear while at work but it is also important to keep your eyes safe in the everyday activities - both indoors and outdoors. When it comes to the purpose of the Chef Shades SSP Eyewear stand true to their motto - namely, "Stay focused!" as these new pieces of eyewear will make you more effective for example while peeling onions as well as while cooking the sausages for your friends at the barbecue.
Finally, no more tears while peeling the onions! Just grab a pair of Chef Shades and isolate your eyes from the onion vapors. Even if you normally wear dioptric glasses both at home or work, you needn't worry, there are special Chef Shades which have been designed so as to fit over small to medium size glasses. What is more, there is also eyewear for various type of faces and different designs which will suit different tastes in style. Style matters also at home, doesn't it?
The shatterproof polycarbonate lenses of the Chef Shades will protect you not only from vapors and stream, but they reduce also fog from steam which makes you see clearly despite any heat that may be around you. Additionally, they protect your eyes from smoke so if you are cooking up a storm on your barbecue, cleaning your oven with heavy duty cleaning products we suggest you Protect Your Eyes.
The high-quality decentered lenses of the SSP eyewear will not distort your vision as they are optically correct. The frames of the Chef Shades are light, flexible and consist of a temperature resistant material, while the temples and rubber tips are secured steadily and rarely slide despite body heat, making them comfortable and suitable for day-to-day use. The eyewear also has anti-fog and anti-scratch coatings which provide full protection of the eye and reduce the fog from steam.
Keeping your eyes protected is important – not just for industrial workers but also in our everyday lives. With the Chef Shades, you will receive protection for your eyes from steam, smoke, onion and pepper vapors etc. The innovative and stylish eyewear are of highest quality and will ensure your eyes' protection weather you are behind a large industrial size stove or cooking and baking in your kitchen at home. Protect your eyes, it just makes sense.