ABOUT US 
SSP Eyewear and has been manufacturing world-class eyewear for over a decade. Our business is dedicated to Don Bechtel, grandfather of SSP eyewear's president and founder, Mike Bechtel, who lost an eye as a child. Our mission is to spread the word that safety eyewear is necessary, not just on the jobsite and sporting activities, but also in day-to-day life. We are committed to creating safety sunglasses that provide exceptional protection, great styles, coordinated colors and superior fit. It really is possible to have all of the comfort and eye appeal of a sunglass with the protection of a safety glass. 

EYEWEAR FACTS  
FASHIONABLE
87% of eye injuries occur because people were not wearing safety glasses. People do not wear safety glasses because they are unfashionable, uncomfortable and hinder their view. SSP is dedicated to creating safety sunglasses that are fashionable, comfortable and beg to be worn.
SHATTERPROOF LENSES
SSP's safety sunglass lenses are prepared with a superior anti-scratch coating and shatterproof polycarbonate. They have been rigorously tested by labs approved by the ANSI (American National Standards Institute), a private non-profit organization that provides the standard that OSHA upholds and enforces. All SSP safety sunglasses meet or exceed ANSI Z87+ and are marked on the temple and at least one lens. Each pair of safety glasses is tested with a complex machine that shoots a 1/4 inch steel ball at over 100 mph.
HIGH QUALITY DECENTERED LENSES
Have you ever worn a cheap pair of glasses and ended up with a headache? All SSP lenses are designed with high-quality optically correct Decentered Lenses. This feature makes the lenses optically correct (so that the center of the lenses align with your pupils) for better vision and to eliminate refraction on curved lenses.
TEMPLES
Uniquely designed to be flexible to minimize pinching and are comfortable for all day use. They are so comfortable, you might not even realize your safety glasses are on your face.
RUBBER TIPS
A unique rubber compound that is permanently attached, is soft and pliable for nose pads and temple tips. As it is exposed to moisture from perspiration and body heat it becomes tacky, securing your glasses to your face.
FRAMES
The frames are designed precisely to position your safety sunglasses to three points of contact; you'll experience a fit that's free of unwanted pressure points. The wrap around design positions the lenses in a way that guarantees the widest and clearest field of vision possible and minimizes distortion. They are lightweight, flexible….weather resistant, and temperature resistant material. 95% of the frames are available in a high-quality pearl paint finish in popular colors.
Making Every Adventure (Fun)ctional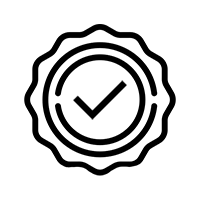 Lifetime Warranty On All Products.
We standby our products.
Learn more

SUPERIOR CUSTOMER SATISFACTION
We're here to help!

Free Shipping
On all orders $35 or more.

Free returns
For 60 days after purchase.