News & Testimonials
Meet SSP's New Sponsored Shooter: Makayla Scott
by Ali Juten on Apr 17, 2020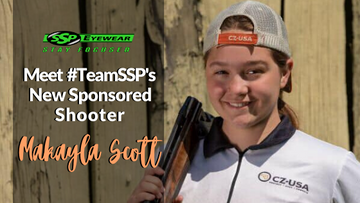 SSP Eyewear is proud to announce our newest Sponsored Shooter, Makayla Scott. Makayla was introduced to shotgun sports 4 years ago and says it changed her life. At age 10, she was adopted after a very tough start in life. But, even with her new family and stability, she still felt like she didn't fit in. Shotgun sports changed that for her. Today, at 16 years old, Makayla is already an accomplished trap shooter. Among her many accomplishments so far, she is a Guinness World Record Holder with 14,167 clays in 12 hours by a team of 5.  We are thrilled to have Makayla on our team and realize the driven, hardworking, individual that she is. This girl is making waves!
Here is a message from Makayla in her own words:
"Hello! I am Makayla Scott. I'm 16 years old from White Sulphur Springs, West Virginia, and I've been shooting for 4 years now.
Despite my wide smile now, I had a rough start in life. I lost my mother to a drug overdose at 5. After years of neglect and abuse, I was removed from my caretaker and brought into my new, amazing family at 10 years old. Even though I now had a family, I always struggled to fit in or find a true place I felt accepted. That was how I felt until I was introduced to shotgun sports. Up to this point, I never felt I could ever believe in myself or trust anyone, but my family never gave up on me! After failing at virtually every sport I tried out for, my father and brother introduced me to shotgun. I never knew one broken clay could've changed my life. Shooting sports introduced me to a world I didn't know existed! I've met so many amazing people that have helped me along the way. I won't say my success has come easy, but I have a love and a passion for this sport that fuels my want for success!
I want to use my success as my stage to reach others. I feel this is my way to finally get people to listen. I want to show kids, and even adults, in my shoes or worse, that you do not have to let your past define you. You can break the chains holding you back and be the best you'll ever be. That's what I want them to know, something I didn't know when I was in that position. This is the way I know they can hear me."
Please join us in welcoming Makayla to Team SSP and be sure to follow along on her journey on Facebook and Instagram. 
Take a look at Makayla's Accomplishments:
Team CZ-USA Shotgun Ambassador
Qualifying for the Junior Olympics
Columnist for Women's Outdoor News
WV State 4-H Shooting Sports Ambassador 2019
Appearing on Gun Dog TV
Non Resident Tennessee State Junior Olympic Champion 2018
Non Resident Pennsylvania State Junior Olympic Champion 2018
First West Virginian Lady to qualify for the Junior Olympics 2018
West Virginia ATA Singles Sub Jr. Champion 2018
East Coast Championship 1st Place Sub Jr. Class 2018
WV 4-H State Championship Overall HOA 2018
WV 4-H State Championship HOA Skeet 2018
WV 4-H State Championship HOA Sporting Clays 2018
Recognized at NSCA Hall of Banquet 2018
2018 B&P U.S Masters Cup Ladies Gold Medal 2018
2018 Negrini Cup Silver in B Class 2018
2018 U.S Grand Prix 4th in Ladies 2018
2018 Eurotarget USA Grand Prix and CANAAM Cup Championship Gold in B class 2018
2018 Perazzi Grand Prix Bronze in Junior Class 2018
4th Place Team in the 4-H Nationals in Grand Island, Nebraska 2019
4th Place in Sporting Clays in the SCTP Nationals 2019 
4th Place in American Skeet in the SCTP Nationals 2019
2019 Doubles Skeet Champion at SCTP Nationals
NC All-State team 2019
Guinness World Record Holder: 14,167 clays in 12 hours by a team of 5
MEC Outdoors Sponsored Shooter
WOMA 2020 Scholarship Winner
1 comment